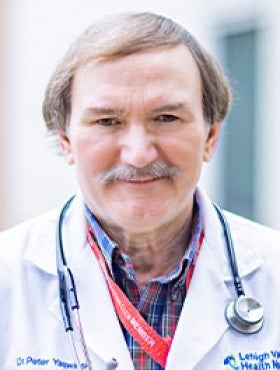 About Peter Yaswinski
Philosophy of care
My partner and I treat people like family. We respond to questions immediately, and when we order tests, our philosophy is that we should call every patient with results ourselves. I make those calls every day before I go home for supper. That way patients can make the most informed decisions about their care. We work closely with colleagues at Lehigh Valley Hospital–Cedar Crest and are very happy to refer our patients to specialists in disciplines like infertility and gynecologic oncology. We make sure we abide by screening guidelines for tests such as bone density so we can refer our patients for appropriate treatment.
Why I entered medicine
I grew up in the Lehigh Valley, where a lot of family friends were physicians, and I was struck by how they took care of patients and had great concern for them. I wanted to help people get healthy and stay healthy, and was most interested in delivering babies. Even though I no longer practice obstetrics, I've been here since 1980s and have delivered about 3,000 babies for area families. People I've delivered often bring their own children back to see me, and that's very rewarding.
Community involvement
I've been on an advisory board for the local Red Cross and contribute to that organization and the Salvation Army, which is a major provider for local poor and homeless people. Many of our homeless are veterans who served their country and are now sick. The Salvation Army takes care of a lot of them. I appreciate the work they've done for vets who have come on hard times.
Personal interests
Beyond spending time with my wife, who is a local bookkeeper, and our two college-age kids, I like outdoor activities like water sports, hiking, fishing and camping. I grew up that way – my parents always had us doing things outdoors. We usually do a beach trip to Cape May in the summer. When you work indoors all week, it's nice to be out waterskiing or being in the natural environment.
Education
Medical Training Medical College of Pennsylvania, MD - Doctor of Medicine, 1980
Training
Internship 1981 Milton S. Hershey Medical Center, Hershey, PA,
Residency 1984 The Medical Center of Delaware,